Gerald M. Smith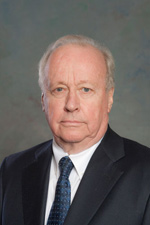 Mr. Smith is the founder of Smith & Smith and has been a respected criminal defense attorney for over 45 years.  He strictly represents clients in criminal matters, including, capital murder/homicide, drug crimes, white collar crime, RICO, felonious assault, DUI/OVI, traffic, rape/sex crimes, computer sex crimes, illegal gambling, fraud, theft, assault, domestic violence, and weapons charges. 
Mr. Smith's vast experience in common pleas, municipal and federal courts throughout Ohio and nationally in states such as Nevada, California, Rhone Island, Texas and Florida has solidified his belief that every person accused of a crime deserves to have his constitutional rights zealously defended.  Mr. Smith's reputation has been formed by his aggressive and diligent pursuit of the facts of each case.  Mr. Smith understands how even a minor conviction can harm a person financially, emotionally, and socially.  In order to properly handle your case, Mr. Smith has created a team approach to evaluate each element of a case and achieve the best outcome possible.
Mr. Smith resides in Lakewood, Ohio.
Education: St. Norbert College (B.A. 1955); Cleveland Marshall College of Law (J.D. 1961). United States Army (1955-1957)
Admissions: Ohio Bar and United States District Court, Northern District of Ohio (1961)
Member: Lorain County, Cleveland, and Ohio State Bar Associations
Practice Areas: Criminal Defense
Location: Avon Lake Office