Criminal Defense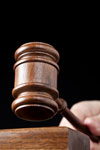 At Smith & Smith, our criminal defense attorneys are focused on aggressively defending all criminal charges. Whether you have been charged in Cleveland, Elyria, Lorain, Cuyahoga County, Lorain County or in any Ohio court, we will work to achieve the best possible outcome for you and keep you informed.
Hiring experienced and knowledgeable criminal defense attorneys is crucial to the successful resolution of your case. Our attorneys have close to 100 years of collective experience dealing with the police, prosecutors, and judges in Ohio and throughout the nation. Specifically, Mr. Smith has tried major felony cases in states such as Nevada, California, Rhode Island, Texas and Florida.
The following is a partial list of matters we handle in Federal and State Court:
Drug Cases
Traffic – No Operator's License/DUS
DUI/OVI
Homicide / Murder
Conspiracy
Assaults
Domestic Violence
Sexual Offenses
Internet/Computer Offenses
Juvenile Offenses
Weapons Offenses
White Collar Crimes
Theft / Receiving Stolen Property
Appeals
Judicial Release
Shock
Expungement/Sealing of Records
RICO
To schedule a consultation, please click here.