Family Law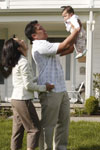 The legal team at Smith & Smith is prepared and experienced to handle your family law issues. Whether you are contemplating an agreed upon end of your marriage through a dissolution or litigating a complex divorce, we are able to provide you with personalized, committed and representation.
We understand that visiting a family law attorney is often a stressful and unpleasant task. We will guide you through the process of ending your marriage and help you deal with the complex issues surrounding custody, child support, and property division.
At Smith & Smith, our practice includes the following areas of family law and domestic relations:
Separation
Divorce
Annulment
Dissolution
Child/Spousal Support
Custody
Change of Custody
Grandparent Visitation & Custody
Paternity
Shared Parenting
Abused & Neglected Children
Property Division
Post-Decree Enforcement
Family Mediation
Adoption
Guardianships
To schedule a consultation, please click here.