Personal Injury & Accidents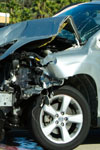 At Smith & Smith, our team of personal injury attorneys have a demonstrated track record of successfully resolving simple and complex negligence cases. When you are injured due to the negligence of another or are injured on the job, you are entitled to be treated fairly.
It is important that you retain qualified, experienced personal injury attorneys because statistics show that when you retain an attorney you will receive much more compensation than those who choose to negotiate with insurance companies on their own.
You must understand that insurance adjusters are trained to resolve your injury claim in the way that benefits the insurance company. Insurance companies are only concerned with their stockholders and are not concerned with the seriousness of your injury or what is in your best interest. Therefore, it is crucial that you retain counsel to help you in receive fair compensation.
We represent injured individuals and families in:
Car Accidents
Motorcycle Accidents
Semi/Truck Accidents
Pedestrian Accidents
Hit and Run Accidents
Drunk Driving Accidents
Dog Bites
Medical Malpractice
Dental Malpractice
Nursing Home Neglect/Abuse
Wrongful Death
Severe, Permanent or Catastrophic Injury
Brain and Spinal Cord Injury
Civil Rights Violations, Excessive Force
Worker's Compensation
To schedule a consultation, please click here.